Block a user
You can block user connections on the network with a single click. This is useful when you note a malicious or risky user connection as you can immediately react by closing all existing sessions and denying any new ones.
Block a user
To block user connections, click on the relevant user in the 'User sessions' view. Then click on 'Block the user'.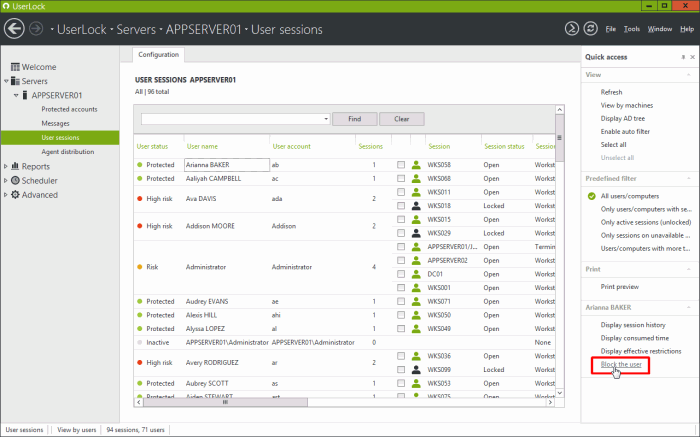 A window will open to adjust settings for this action.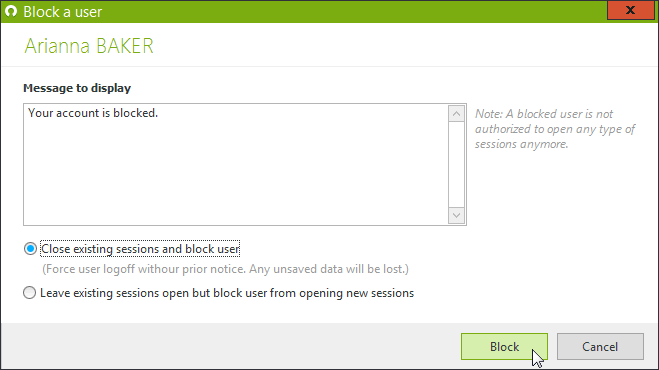 Message to display

: When the user is denied as blocked by UserLock, a message will be displayed at the logon attempt. You can customize this message.

Close existing sessions and block user

: This option allows you to force the logoff of any session open by this user. No prior notice will be given and any unsaved documents will be lost.

Leave existing sessions open but block user from opening new sessions

: This option only blocks any new session the user concerned user may try to open, but won't close the existing sessions.

Block user permanently beyond the temporary rules existing for him

: This option is displayed if there is/are only temporary protected account(s) defined for this user (without a permanent protected account). The goal is to extend the connection prohibition beyond the validity period of the temporary account(s). This option is checked by default.
When a user is blocked, a permanent protected account rules is created to block any connection for this user. If there is already one or more user protected accounts existing for them, either permanent and/or temporary, they will be  annotated to indicate that the user is blocked:
In the 'Protected accounts' view with ,
In the 'Information' section available when editing the protected account of a blocked user. This section also allows you to unblock the user or edit the message displayed at attempted logon.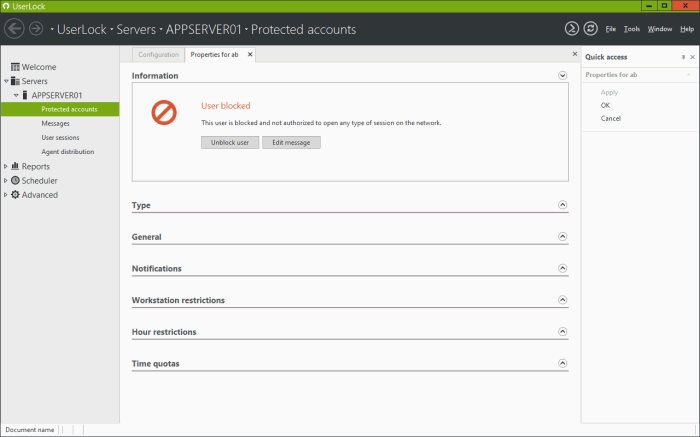 Unblock a user
You can unblock a user from:
The 'User sessions' view by selecting the relevant user and clicking on 'Unblock user' in the 'Quick access' panel.
The 'Protected accounts' view by selecting the relevant user protected account and clicking on 'Unblock user' in the 'Quick access' panel.
The protected account Properties of the relevant user by clicking on the button 'Unblock user' available in the 'Information' section.
Once a user is unblocked, the usual rules and restrictions defined for them (if there are any) will be applied again.
Please note: If a user protected account was created to block the user, this protected account will still exist when unblocking the user but it will have no settings defined (no rules/restrictions set) and will not therefore have any impact on the restriction policy. You can keep it as it stands or delete it.
Notes:
UserLock will block only the connections it monitors. If you only monitor interactive session connections (workstation and terminal sessions), only those connections will be denied for the blocked user. Others not monitored, such as Wi-Fi, VPN or IIS will still be authorized as not monitored by UserLock.
This option is also available from a user protected account.