Messages
The 'Messages' view allows you to modify the default text messages used by UserLock. You can use this option to localize or customize the messages or notifications displayed to users or alert notifications sent to UserLock operators.
A message consists of an identifier and a text value. Several dynamic variables are available to give further information.
Please note that any upgrade to a newer version of UserLock won't modify message content. The upgrade process will only add new messages (when available) to avoid any personalization loss from a previous version.
The following identifiers are available for UserLock:
Please note: The 'Welcome Message' includes the 'Time quota' information tag only on new UserLock installations. For any upgrade from version 6, you need to manually add the dynamic variable '%quotainformation%' to the 'Welcome Message'.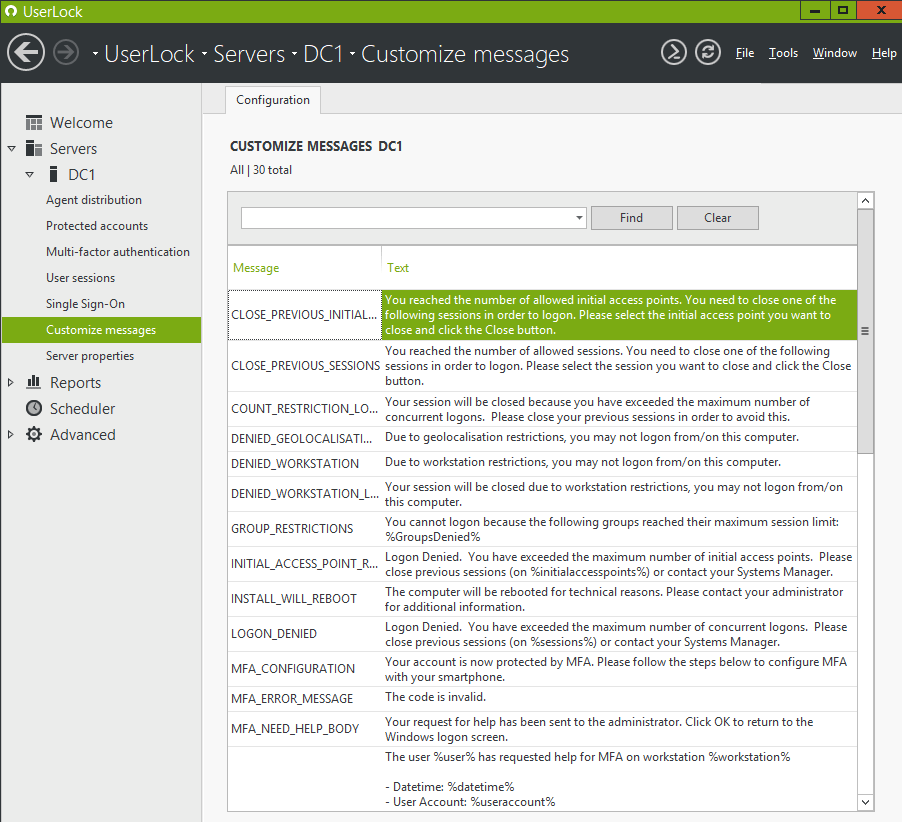 Every message value may contain the following dynamic variables between percent characters. These variables are replaced by accurate data when the value is interpreted by the UserLock service.
| | |
| --- | --- |
| Variable name | Meaning |
| %status% | Successful or Denied depending on the result of a logon authorization (only valid for the LOGON_NOTIFICATION_SUBJECT and LOGON_NOTIFICATION_BODY messages). |
| %user% | |
| | The account of the user trying to logon or logoff. |
| | Current user status. |
| | Previous user status. |
| %reason% | Action making the user status change. |
| | Reason making the user status change. |
| %workstation% | The name of the current session. |
| | The number of sessions listed by the %sessions% variable. |
| %initialaccesspoints% | The list of 'Initial access points' (delimited by a comma) already open by a user before the current logon try. This string is null if no sessions are open elsewhere by the user. |
| %sessions% | The list of sessions (delimited by a comma) already open by a user before the current logon try. This string is null if no sessions are open elsewhere by the user. |
| | Type of session. |
| | Session event. |
| | Last computer from which the user was connected ('Welcome message' only). |
| | The "Description" Active Directory field of the last computer from which the user was connected ('Welcome message' only). |
| | Number of logons denied by UserLock since the last successful logon ('Welcome message' only). |
| | Date and time of the last successful logon  ('Welcome message' only). |
| | Current time. |
| | List of groups that have reached a maximum session limit disallowing the user to logon. ('GROUP_RESTRICTIONS' message only). |
| | History of all logons denied by UserLock and Active Directory since the last successful logon ('Welcome message' only). |
| %refusedlogons% | Number of logons denied by UserLock and by Active Directory since the last successful logon ('Welcome message' only). |
| %quotainformation% | Minimum Time quota remaining and period concerned. This variable is formatted for the Welcome Message. Just add this line at the end of the 'WELCOME_MESSAGE' text. |
| %period% | Time quota period. |