Warnings
FileAudit detects and logs its own issues when performing file auditing. The following events and issues are detected and logged:
FileAudit service: startup and stop.
Database connection: failure and recovery.
Database insertion: failure and operational again.
Licensing: license issue and license ok again).
E-Mail (failure and operational again).
MS Access database size: a warning is displayed when the size of the database reaches 75%, an error when the database size has reached 100% (2 GB) and an information note when the database size is less than 75% again.
FileAudit console connection to the audited server: failure and recovery.
The Warnings tile in the console
A dynamic tile is available from the hub to warn about potential issues encountered. The number displayed in the tile corresponds to the number of new events that have occurred since last opening the FileAudit console.
Click on the tile to access the Warnings view.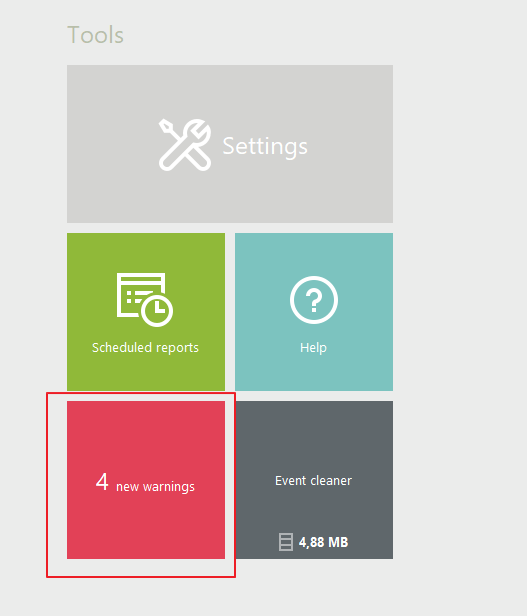 Last warnings
The warnings view displays the ten latest notifications the FileAudit service has encountered (if any exist).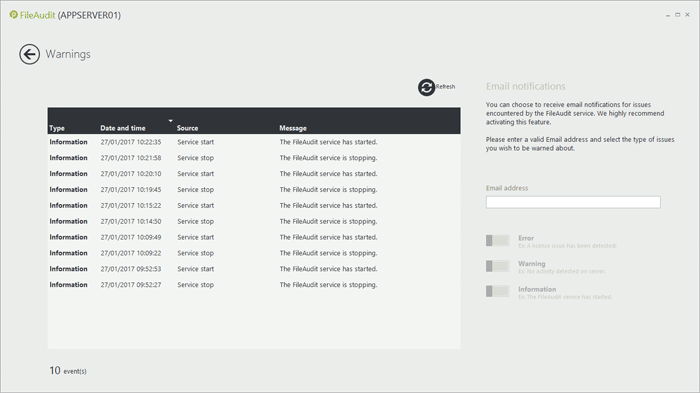 The warning notifications
FileAudit allows you to get notified by Email for the different types of events encountered by the FileAudit service.
You can configure this feature from the Warnings view or the Service tab in the Settings view.
We highly recommend you to enable this feature.
To enable the warning notifications, you must first add a valid Email address.

Select the type of issues you wish to be warned about.

An error label will appear if your Email settings have not yet been configured.

Click on the error label to go to the Email settings.
Please note
To disable the feature, leave the Email address empty or turn every switch off.