Schedule tab
Via <![CDATA[ ]]>the 'Schedule' tab, the scheduling of the report generation and distribution can be defined.
The FileAudit scheduler interprets the time period selected for a given report and dynamically generates the report for the same period. For example, if you have chosen the previous day as the monitored time period, the report will always contain events day before the report execution day.
The report will be attached to the e-mail in PDF format.
You can then choose to Schedule the task 'Weekly' or 'Monthly'. Set the Start time as desired.
Schedule task weekly
Select 'Weekly' in 'Schedule task'. The day names will appear with a corresponding switch allowing report generation to be enabled/disabled for this day. Green denotes that a report will be generated for that day: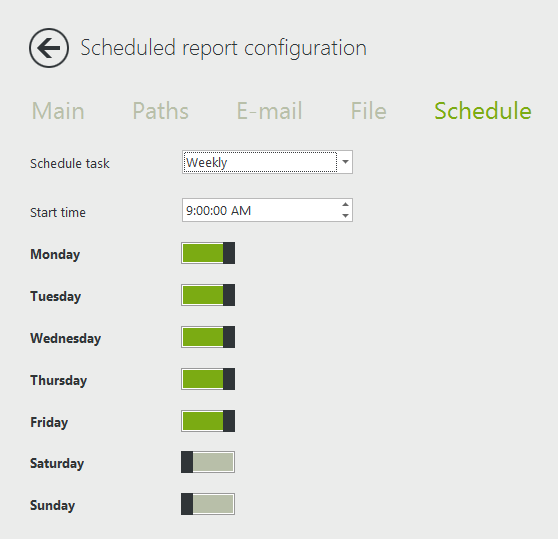 Schedule task monthly
Select 'Monthly' in 'Schedule task'. This will generate two further Mode choices. The first, 'Days of month', allows you to choose specific day(s):

The second Mode is 'Week of month', allowing selection of a target week (first, second, third, fourth or last):

Having selected the desired week, select the day(s) of this week on which the task will be executed:
NOTE: The Schedule tab differs for Permissions and Summary Reports as they are required to be based upon snapshots being created.