FileAudit Frequently Asked Questions
I have installed FileAudit 4 or 5 on the same host than FileAudit 3. How is the data stored into my old database managed ?
If your database was the default Microsoft Access database provided with the FileAudit 3 package, the installation process of FileAudit 4 or 5 imports the data from the old database. You will be able to retrieve your old access events on the new FileAudit 4 or 5 version.
Once the installation is finished, each version will only insert the access events into its own database.
If your database was a Microsoft SQL Express or SQL Server database, you need to manually migrate the old database to the new version 4 or 5 if you want to retrieve old access events:
Duplicate/copy your old v3 database to create a new database.
Open FileAudit 4 or 5, click on the Settings tile in the Tools area and go into the Database section.
Set the SQL Server database you just created using the database connection wizard.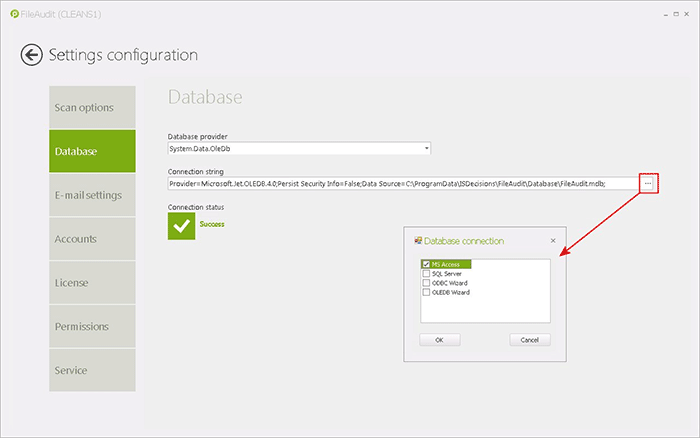 FileAudit will upgrade automatically your old database to the new version 4 or 5 structure and you will be able to display old access events from v3 and use this database to store the new ones.
Take note: Don't link directly your old database to the new version: once upgraded, you won't be able to use this database with your old version 3 any longer. We advise you to create a copy of it and use this copy for the new version 4 or 5.